Outdoor dining in Aspen is second to none. From cozy eateries located along the main streets to storied taverns at the base of towering, snowy mountains, Aspen restaurants aren't just places to grab a quick meal—they're experiences.

But don't let the stunning mountain views distract you from the delicious fare available at these incredible eateries. Read on to learn which outdoor Aspen restaurants can't be missed.


This glamorous and tranquil spot epitomizes the term "apres-ski"—a perfect way to wind down after a day on the slopes. Ajax Tavern provides a sprawling, comfortable outdoor patio located at the base of Aspen Mountain with views that can't be beaten. The food here is fine dining at its best, but the restaurant also maintains a casual vibe; you don't have to worry about getting all dressed up here. Just pull out a chair, soak up the sunshine and stunning views, and enjoy some incredible food.

Ajax Tavern prides themselves on putting a modern, Colorado-influenced spin on classic tavern food. Order a trendy charcuterie board for the table and snack on pate, duck prosciutto, pickles, and mortadella. The Ajax Truffle Fries, sprinkled with grana padano and parsley, make for an excellent post-skiing treat. Ajax's incredible seafood bar serves delicacies like a half dozen oysters or a half-pound king crab, each served with the traditional accompaniments.

For your main course, Ajax is renowned for their Wagyu double cheeseburger, a decadent burger made with American cheese, onion aioli, and an option for truffle fries on the side. Meat lovers will also enjoy trying the beef bourguignon, made with a Wagyu short rib and potato puree, carrots, and mushrooms, or the 6-oz. tenderloin steak frites, served with a delicious bearnaise sauce.

Of course, it wouldn't be apres-ski without some incredible drinks, and Ajax Tavern certainly delivers, whether you're craving a glass of red wine, a cold draft beer, or a signature Ajax cocktail like The Nutty Lift, made with Frangelico, Jameson, hot chocolate, and topped off with whipped cream.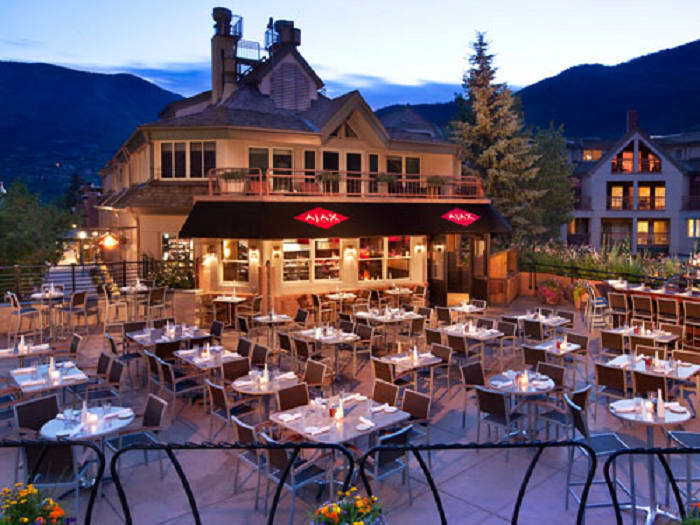 Credit: Eat Snowmass



Have a seat in the cozy outdoor dining area, located right next to a thriving downtown Aspen street, and enjoy stunning views of the nearby mountains. The tavern itself is housed inside the historic AG Sheppard House, a previous miner's cottage built in 1883. Visitors love to marvel at the house's beautiful Carpenter Gothic style, especially set against the incredible mountain backdrop.

The White House Tavern is known for its selection of delicious and healthy sandwiches and salads. Choose from the French dip au jus, which piles a thinly sliced roasted prime rib on a deliciously warm house-made French roll, or the Macho Salad, a tasty plate piled high with rotisserie chicken, mixed greens, avocado, dates, goat cheese, toasted almonds, and freshly shucked corn. Grab a plate of creamed corn for the table, a shareable treat of fresh corn, jalapeno, and cracked pepper. The farm-fresh deviled eggs are also a delicious snack for your table to enjoy, topped off with a tasty pickle relish and scallions. The Tavern is also known for its artisanal pizzas.

Ready to grab a drink? Choose from a selection of wines by the glass or a cold Colorado draft beer. The Tavern's cocktails are also a must-try. The Hillstone Negroni is an Aspen take on an old favorite featuring a splash of lime, and diners love the Tavern take on a margarita: a signature recipe featuring Corazon Silver tequila and fresh lime.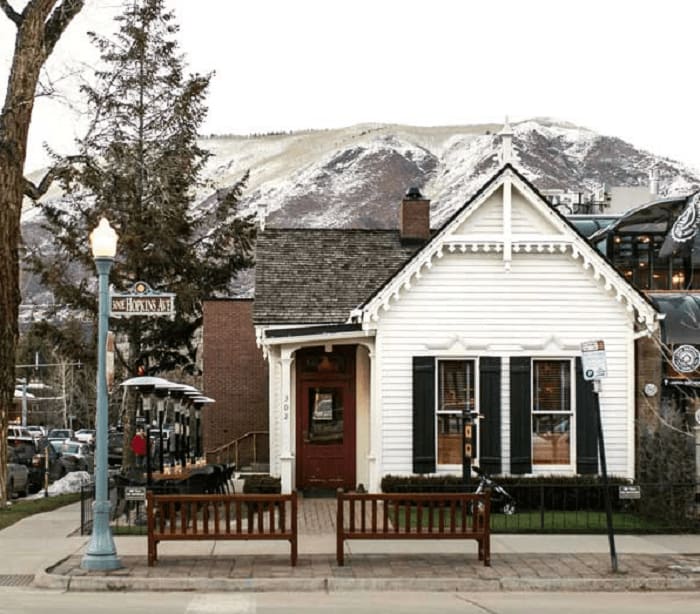 Credit: The White House Tavern



This French and Austrian-owned bistro is consistently ranked as one of the best restaurants in Aspen, and it's no wonder why. French Alpine Bistro instantly creates an atmosphere of warmth and welcoming for its patrons. The restaurant—designed by the owners!—features rustic wood panels and unique old-world antiques, as well as soft sheepskin-covered chairs. The cozy patio is heated during the winter months to ensure maximum comfort. The French Alpine Bistro has been profiled in The New York Times, The Telegraph, The Los Angeles Times, and was ranked as one of the "top 5 best romantic restaurants in the United States" by the Food Network.

So what exactly can you enjoy at this bistro? The menu is packed with all the things that come to mind when you think of French Alpine cuisine, from soupe à l'oignon (French onion soup) served with a baguette and gruyere cheese, to sauteed butter escargots en brioche, to a decadent terrine de foie gras featuring cacao-marbled Hudson Valley foie gras and served with toasted brioche and lingonberry compote.

There are plenty of fantastic choices for your entree, including the delicious kaiser schnitzel, a tender and breaded pork loin served with crispy romaine lettuce and topped with Caesar dressing, shaved Parmesan, and lemon. Foodies will love the ratatouille, served with Provençal vegetable ragout (tomato, zucchini, eggplant, and bell peppers) and topped with a decadent Béchamel sauce; this can also be served in a bowl with a warm baguette.

Order the famous cheese Fondue for the table, featuring melted Gruyere, Vacherin, Beaufort, and Comte cheese along with white wine and a touch of Kirschwasser. This entree is sure to be a crowd-pleaser. Freshly-shaved black truffles can be added on top, and patrons can customize the experience by adding various food items to dip, including apples, roasted broccoli and cauliflower, roasted rosemary potatoes, and assorted charcuterie.

The French Alpine Bistro is also a great place to grab drinks with friends while enjoying comfortable outdoor seating in the fresh Aspen air. Try a cocktail like the gin and orange liquor-based French 75, the Chai White Russian, or the elaborate Lost in Time, which combines Maker's Mark bourbon with yellow Chartreuse, Domaine de Canton ginger liqueur, and lemon juice, served with a cinnamon stick.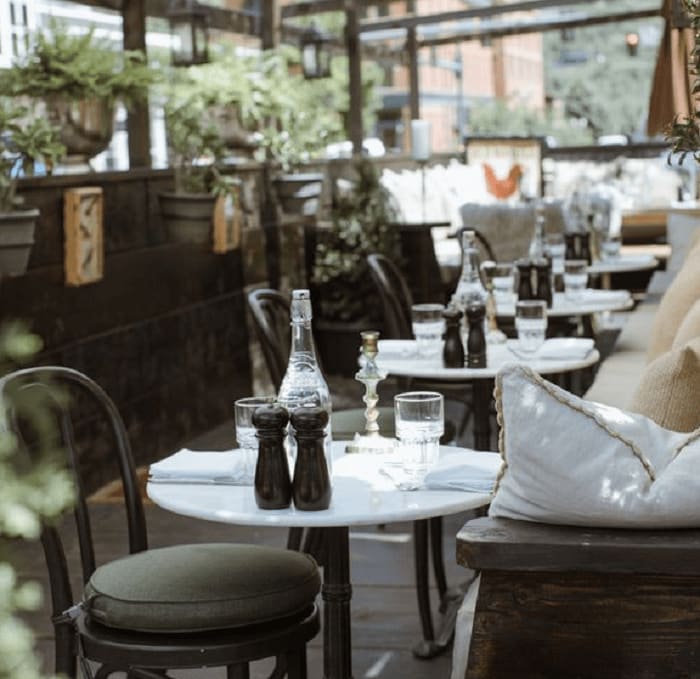 Credit: Open Table



Located inside the Little Nell, one of Aspen's luxury five-star hotels, Element 47 is an incredible fine dining restaurant—the perfect place to unwind from a busy day of adventuring! Named after the element silver, which Aspen produced during the late 19th-century mining boom, Element 47 exudes elegance and charm.

Kickstart your morning by stopping by Element 47 to try an incredible breakfast paired with a variety of coffees, organic teas, and freshly-squeezed juices. Fuel up for a day on the slopes with a brioche French toast breakfast served with macadamia granola and topped with orange marmalade and vanilla cream. You can also create a custom omelet with delicious ingredients like oven-dried tomatoes, mushrooms, bacon, ham, cheddar, goat cheese, and more! Not quite so hungry? Try some lighter fare like steel-cut oats (topped with yummy cinnamon, turmeric, and blueberries), berry parfait, a blueberry vanilla muffin, or other baked goods.

If you're looking for an incredible fine dining experience, Element 47 is the place for you! Choose from first courses like Wagyu tartare or a winter vegetable salad and second courses ranging from a duck confit gnocchi to a decadent hot rouge foie topped with pear, hazelnut, and Parmesan. You can even indulge in a gourmet treat like caviar, available in either kaluga or white sturgeon. Ready for your entree? Element 47 is known for its show-stopping Emma Farms Wagyu, a 4-oz. New York strip steak featuring pont neuf fried potatoes, turnips, and maitake—and it's also available in an 8 oz. option if you're starving. If you're in the mood for seafood, try the black bass or Hawaiian mero bass.

Not only has Element 47 been frequently awarded Forbes' "Five Star Restaurant Award," but its stellar wine list has also secured a spot on Wine Enthusiast's list of America's 100 best wine restaurants six times and a place on Wine Spectator's top favorites for 23 consecutive years. Choose from sparkling, white, or red; Element 47 boasts an extensive wine cellar filled with thousands of bottles.


This hotspot along Aspen's famed Restaurant Row is the perfect place for delicious European-style cuisine. Featuring farmhouse cuisine, great wines, and craft beers, Meat and Cheese prides itself on celebrating food that's prepared in home kitchens around the world. The outdoor seating is delightful on a crisp, fall Aspen day.

Meals at Meat and Cheese are known for their focus on cured meats and artisan loaves of bread. Start off with a healthy kale salad featuring green leaf lettuce, arugula, kale, pickled onions, apple, almonds, crispy shallots, and topped with a yuzu vinaigrette. You can also grab a board to share with the table; the ever-popular meat and cheese board includes a house selection of three types of cured meats and three kinds of cheese and can be ordered to feed either two or four people. There's also the tasty biscuit board, a comfort food favorite that features warm and flaky buttermilk biscuits, shaved ham, and house-made seasonal mustard.

For your entree, Meat and Cheese boasts a variety of delicacies, including a pan-seared duck breast topped with a blood orange chipotle glaze, polenta, and celery root, with a side apple salad. You can also branch out by trying the Korean clam chowder or the decadent crispy fried chicken bites, which come with peanut sauce, sweet chili sauce, and spicy fish sauce for delicious dipping.

Browsing Aspen luxury real estate? If you're looking for a trustworthy and experienced Aspen real estate agent, get in touch with the Saslove & Warwick team today.