Whether it's winter or summer, Aspen provides plenty of incredible outdoor activities for the whole family to enjoy! Spend those cold, snowy days trying out some thrilling winter sports, or bask in the sunshine of a summer's day on a beautiful, wildflower-strewn hike through stunning vistas. Read on to plan how your family can have the time of their lives in Aspen's great outdoors.


1. Hit the ski slopes
It's no secret that Aspen is renowned for its phenomenal skiing. With four stellar mountains located throughout the Aspen area, there are plenty of opportunities for your family to have a skiing adventure. Choose from Snowmass, Aspen Mountain, Aspen Highlands, or Buttermilk — all fantastic and exhilarating ski opportunities.

First, there's Snowmass, which rises a towering 4,000 feet high and spans over 3,000 acres. Skiers can take advantage of 150 miles of ski trails and 96 different runs. Advanced skiers love spending time at Snowmass, but if there's anyone in the family who's new to skiing, they don't need to feel left out—there are many facilities available for beginners.

Next, Aspen Mountain is located steps away from Aspen's fun-filled downtown area. Often regarded as Aspen's quintessential ski destination, this mountain has been a local staple since it opened in 1946 and spans over 675 beautiful acres, with 64 miles of trails. Aspen Mountain is a pro skier's dream, so you may want to save this one for when the kids are older and a little more experienced. However, if you're a family of skilled skiers, you'll love the mountain's medium difficulty runs.

Compared to Aspen's other stunning mountains, Aspen Highlands can sometimes slip under the radar — but don't let it! It's a local favorite! If you've got older or adult children with years of skiing under their belts, this mountain is truly a diamond in the rough. The mountain is less crowded with fewer children, and 65 percent of Aspen Highlands' trails are rated "difficult."

Families love skiing at Buttermilk, an excellent mountain for those who are just getting into the sport. While Buttermilk is famous for hosting the Winter X Games, it's smaller and is home to a higher concentration of more accessible trails. This makes it an excellent place for families and beginners to enjoy—without the pressure that might come with one of the bigger, more intimidating mountains.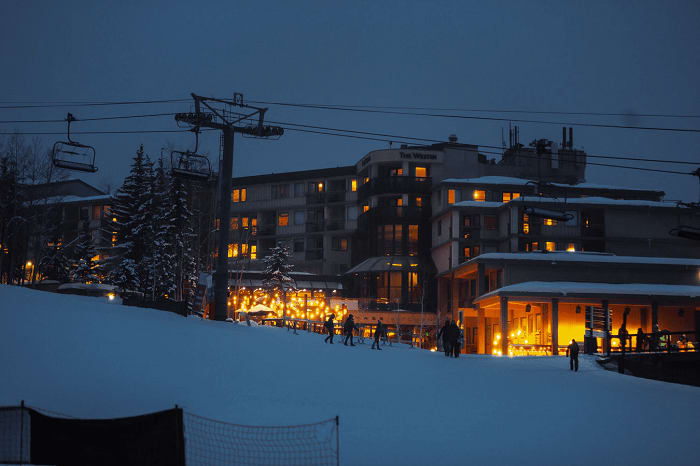 2. Hone your skating skills
Enjoy an evening of ice skating the kids will never forget! Head over to the lively and festive Snowmass Base Village, home to a rink that provides free public skating. Don't have your own pair of skates? Not to worry — rentals are available from a cute Airstream trailer located at the rink. Do be advised that due to the COVID-19 protocols, the rink requires reservations to be made in advance on their website.

The Snowmass rink also holds lots of fun events that the whole family will love, ranging from the Game of Stones curling competition to skating disco parties with music provided by local DJs. Warm up by an outdoor fireplace, and grab a snack at the nearby Limelight Lounge.

Your family should also check out Silver Circle Ice Rink, located right by the Aspen Mountain Ski Resort. Open from December through February, visitors can rent skates and enjoy the stunning mountain views and fresh air. There's also the Aspen Ice Garden, which can be found in the heart of downtown Aspen. A local fixture for over 55 years, this rink is open during the winter for public skating.


3. Have a tubing adventure
If your kids aren't quite ready for skiing — or even if they're just looking for another snowy activity to enjoy this winter — check out Aspen's tubing locations! Arguably the best place for family-friendly tubing can be found at Snowmass. Four tubing lanes are carved into the Meadows at Elk Camp, which is well-lit and served by lifts to get up the mountain quickly. Open from December to April, Snowmass's tubing is a blast. As soon as darkness falls, the facility lights up, casting a magical glow over the snow as you fly down the mountain!


4. Celebrate Ullr Nights
Pay tribute to Ullr, the Norse God of Snow, at Snowmass's Ullr Nights! This wintertime party is a tremendous amount of fun for the whole family. Grab an Activities Pass for $64 per person, which allows everyone in your party to take an evening gondola ride up to Elk Camp, where you'll find the tubing facilities and the Breathtaker Alpine Coaster.

With your Activities Pass in hand, you can enjoy unlimited night time tubing and rides on the thrilling Alpine Coaster! Craving some post-dinner snacks? Warm up by the bonfire with s'mores and hot chocolate. Starting at 5 PM, visitors over the age of 12 can enjoy a snow bike tour. Each participant must have proven intermediate ski or snowboard skills due to safety reasons. This tour will take you on an exciting adventure starting at Snowmass Base Village's Four Mountain Sports store.

Kids and teens will be dying to try Snowmass's famous Breathtaker Alpine Coaster. A thrill ride that reaches speeds up to 28 mph, the Coaster whisks you along a mile of track through the beautiful, snowy forest. Each car is equipped with its own lights, allowing you to truly enjoy the view. Unlike a typical roller coaster, each rider can monitor their own sled speed and control their braking. Overall, this thrilling ride takes between seven and nine minutes.


5. Hike the stunning mountains
As we move into the warmer months, get the kids away from screens with a hike in the fresh Aspen air. Of course, you may not want to bring the whole family along to scale a mountain. Here are some suggestions for light but enjoyable Aspen hikes!

Get a workout by walking along the flat, paved Rio Grande Trail — also a great place to take young kids who are practicing their bike riding. Kids also enjoy moderate hikes like Smuggler Mountain Road, a dirt path that climbs Smuggler Mountain and offers beautiful views, or Hunter Creek Trail, a popular 1.5-mile dirt trail on US Forest Service land, located just a short walk from downtown Aspen.

Enjoy the 1.62 mile Ditch Trail, a wide and rocky trail that will take you along the stunning Mt. Daly. Locals love this trail for dog-walking and leisurely morning strolls — not to mention the beautiful views of the Maroon Snowmass Wilderness Area. Want to experience the aspen groves? Check out the 1.65-mile cross-country Tom Blake Trail, a particular favorite in the autumn as the leaves begin to change colors.

Looking for a calm nature walk that's suitable for the youngest members of your group? Bring the family to the Nature Trail, which is close to Snowmass Mall and provides plenty of natural beauty, from wildflower meadows to stunning aspen trees. The Aspen Center for Environmental Studies offers frequent guided hikes along this trail.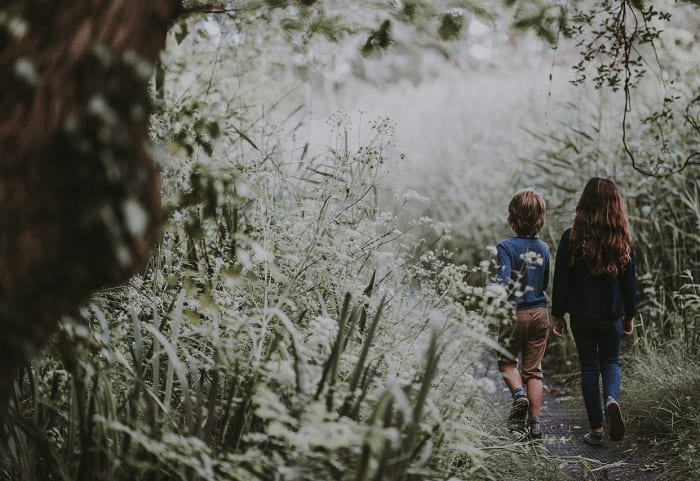 6. Get your heart pumping on a whitewater rafting trip
Trying to cool down on a hot summer day? Take the whole family on a whitewater rafting trip they'll never forget! Aspen Whitewater Rafting is the place to go for incredible rafting adventures that are appropriate for both adults and kids. Staffed by professional and experienced guides, AWR is located near the Elk Mountain range and can guide your group on a scenic and exciting outing.

Start off the morning with a refreshing inflatable kayak trip! Each person over the age of 12 will ride in their own inflatable kayak, also known as a "ducky." Children under 12 may be asked to ride with an adult. Kayakers will be briefed by experienced guides and learn helpful tips and strategies before heading out onto the Roaring Fork.

Not quite ready for something so intense? Families with younger children may want to look into the mild rafting trip options, which are more low-key and perfect for beginners. Suitable for anyone over the age of six, this trip will give rafters a taste of whitewater adventures through the beautiful Snowmass Canyon and some easy rapids.

If you're looking for an exciting, full-day rafting trip, check out the Browns Canyon Full Day experience. Considered the most popular whitewater rafting destination in the country, the Browns Canyon trip will take you through moderate but energetic Class III rapids, past mountain tunnels, riverside cabins, and stunning granite formations. Lunch is included in the ticket price.

Participants should arrive wearing quick-drying clothing and waterproof sunscreen and will be provided with splash gear, wetsuits, and neoprene booties for protective footwear. Where appropriate, rafters will also be given helmets as a safety precaution.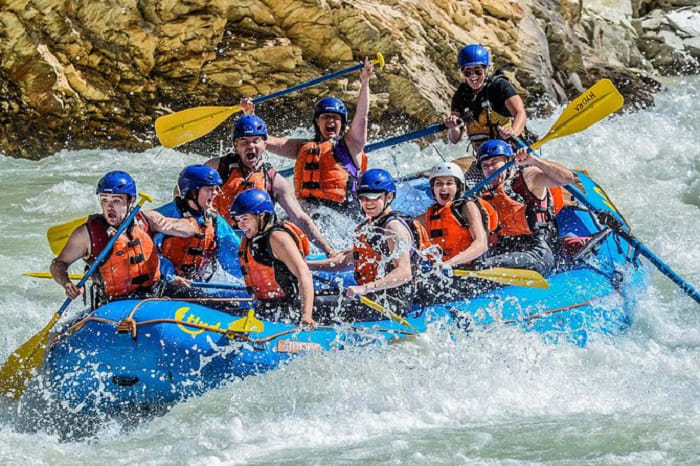 Browsing Aspen luxury real estate? If you're looking for a trustworthy and experienced Aspen real estate agent, get in touch with the Saslove & Warwick team today.